Discover Build4Asia 2018
Build4Asia is the Largest Biennial Tradeshow for Building, Electrical Engineering and Security Services in Asia, offering an unrivalled platform for Suppliers and Buyers for a wide range of Products and Services.
500
Anticipating No. of Exhibitor
15,000
Anticipating No. of Visitor
Show Name
Build4Asia 2018
Asia's Innovative Technology Showcase for the Building, Electrical Engineering and Security Industries
Asian Elenex 2018
The 18th Asian International Electrical Engineering and Lighting Show
Build4Asia 2018
The 13th Asian International Building Technology, Material and Decoration Show
Asian Securitex 2018
The 15th Asian International Security, Safety and Fire Protection Show & Conference
Show Date
9 – 11 May 2018
Opening Hours
10:30 – 18:30    9th (Wednesday)   
10:30 – 18:30    10th (Thursday)        
10:30 – 17:00    11th (Friday)            
Venue
Hall 1B-E, Hong Kong Convention & Exhibition Centre
Frequency of Show
Biennial
Admission Policy
This exhibition is strictly open to professional trade and business visitors only. The general public and any children under 18 would not be admitted. Qualified trade buyers can bring along their business card for onsite registration. The Organiser reserves the rights to verify the trade identity of pre-registrants and to refuse admission to any visitors deemed inappropriate.
---
Exhibit Profile
The 18
th
Asian International Electrical Engineering and Lighting Show
Cables, Cable Glands & Cable Trays
Circuit Breakers
Commercial & Office Lightings
Connectors / Connecting System
Controls & Dimmers
Daylight Technologies
Decorative & Custom Fixtures
Electrical Power Distribution & Transmission
Emergency Lighting & Safety Signs
Fiber Optic Lightings
Fire Safety Products
General Lighting
Lamps, Energy Saving Lamps
LED Lighting Solutions
Lightning Protection Systems & Earth Rods
Meter & Monitoring Systems
Motors & Motor Controls
Outdoor & Street Lightings
Power Generation Equipment / Generators
Renewable Energy Technologies
Switches
Testing & Measuring Instruments for Power
Thermal Imaging & Infrared Cameras
Transformers
Wireless Solution
The 13
th
Asian International Building Technology, Material and Decoration Show
Air Filtration Equipment
Air-Conditioning Solutions
Architectural / Interior / Landscape Design & Service
Architectural Lighting
Building & Interior Decorative Material
Building Management Solution
Building Paint & Coating
Ceiling / Flooring / Wall Covering / Fabric / Carpet
Communication Solution
Engrgy Efficiency Solution
Energy Saving / Insulation / Heat Preservation Material
Facility Management System
Fireproof Material
Furniture & Soft Furnishing
Heating, Ventilation, and Air Conditional (HVAC)
Home Automation Solution
Intelligent Building Solution
Lighting Control Solution
Network Management Solution
Pipe & Fitting
Susyainable / Green Building & Construction Material
Water / Environmental Management Technology
Waterproof Material / Roofing & Ceiling
The 15
th
Asian International Security, Safety and Fire Protection Show & Conference
Access Control
Biometrics
Car Parking System
Cash Management Solution
CCTV & Remote Monitioring Control Systems
Electronic Article Surveillance (EAS)
Electronic Safety
Fire Safety Solutions
Home Automation Security Solution
Information / Data Security
Integrated Security Management Systems
Intelligent Buildings
Intruder Alarm Solution
IP Security
Lock Sales
Meter Detectors & X-ray / Screening Equipment
Rescue & Emergency Equipment
Safety Clothing
Security Doors, Gates & Shutters
Security Guard Services
Security Solutions
Smartcard / Card Technology
Surveillance Solutions
Traffic Counting Solutions
Transportation Security
---
Exhibitor List

Exhibits Preview

---
Venue 
HONG KONG CONVENTION & EXHIBITION CENTRE
Build4Asia 2016 will take place in the award-winning, multipurpose-built Hong Kong Convention and Exhibition Centre which is one of the largest in Asia. Located in the heart of Wanchai on the Hong Kong Island, the centre is one of the world's most impressive, efficient and functional exhibition venues for exhibitors and buyers alike.
Floor Plan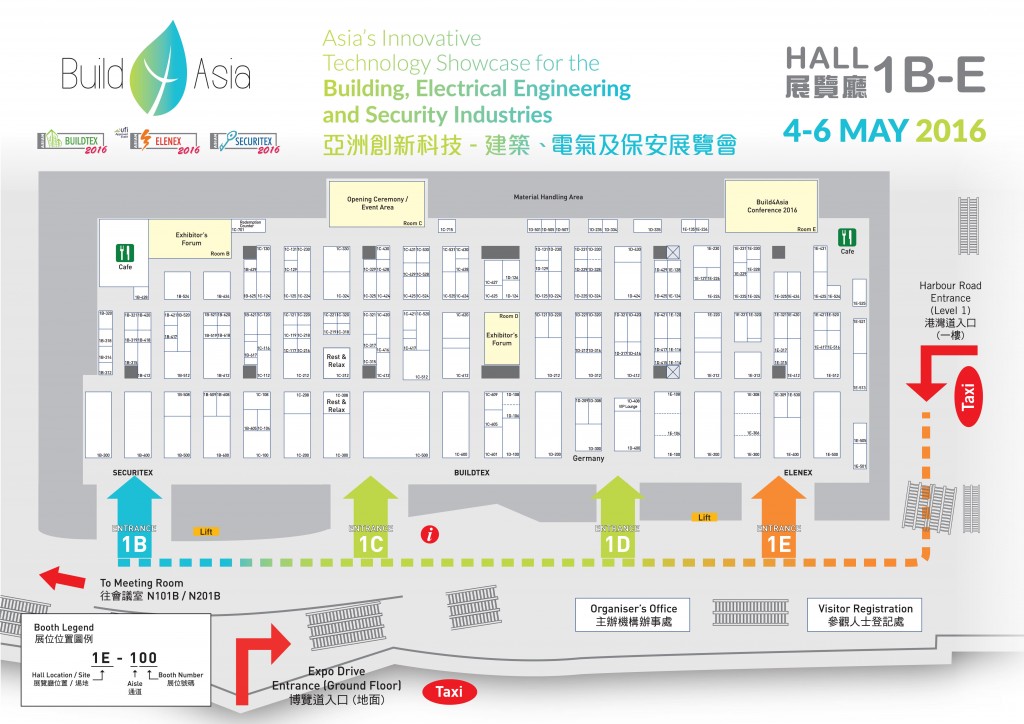 ---
Photo Gallery

See more ›
---
Supporting Partners
Organisations
Media